22.11 24-27.11 \\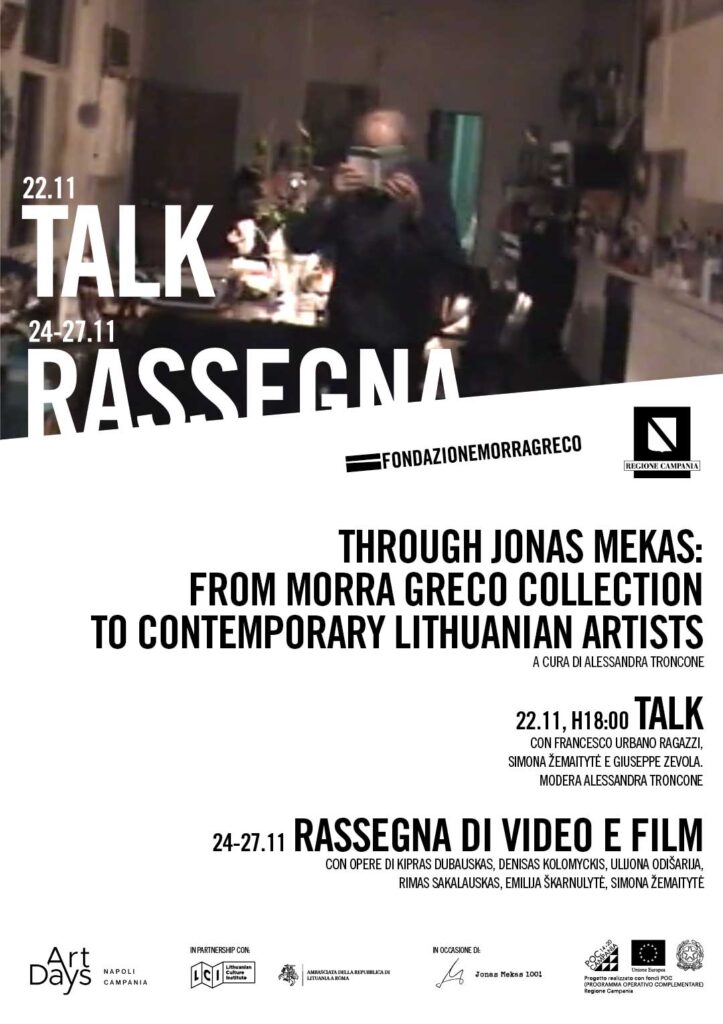 Through Jonas Mekas: From Morra Greco Collection to Contemporary Lithuanian Artists
Curated by Alessandra Troncone
Morra Greco Foundation, Naples
Tuesday November 22, at 6 pm
Talk with Francesco Urbano Ragazzi, Simona Žemaitytė, and Giuseppe Zevola moderated by Alessandra Troncone
From Thursday 24 to Sunday 27 November 2022, from 10 am to 6 pm
Video and film screening with works by Kipras Dubauskas, Denisas Kolomyckis, Ulijona Odišarija, Rimas Sakalauskas, Emilija Škarnulytė, Simona Žemaitytė.
In occasion of the centenary celebrations for Jonas Mekas' (Biržai, 1922 – New York, 2019) birth, Through Jonas Mekas: From Morra Greco Collection to Contemporary Lithuanian Artists, curated by Alessandra Troncone, is a tribute to the Lithuanian-born poet, artist and filmmaker whose starting point is the two works in the Morra Greco Collection: Elvis&Wein&Mozart (2001) and Lonesome Day (2003).
The project divides into two moments: on Tuesday, November 22 at 6 pm, a talk will take place at the Fondazione Morra Greco that will focus on Mekas, his relationship with Naples and his influence on the latest generation of artists and filmmakers. Moderated by Alessandra Troncone, the event will feature Francesco Urbano Ragazzi, curators of the exhibition Jonas Mekas. Images are Real at the Macro Mattatoio, Rome; Simona Žemaitytė, artist and filmmaker; and Giuseppe Zevola, artist, and will be accompanied by the screening of two films by Mekas from the Morra Greco Collection.
Starting instead on Thursday, November 24, and for the duration of Art Days – Napoli Campania (November 24-27), the third floor of the Foundation will host a screening featuring a selection of films and videos by Lithuanian artists born between the 1980s and 1990s.
If for Mekas cinema represents a narrative tool that insinuates itself into the meshes of the everyday, not seeking cinematic fiction but, on the contrary, plumbing the most ordinary aspects of living, similarly Through Jonas Mekas: From Morra Greco Collection to Contemporary Lithuanian Artists aims to return to the idea of an uninterrupted flow within reality taking into account its most ordinary aspects. The screening also aims to offer a glimpse into the Lithuanian context and the memory of its Soviet past, such as in Rimas Sakalauskas' Synchronisation, where Soviet-era buildings come alive to the sound of hypnotic music, or in Emilija Škarnulytė's Aldona, which shows the artist's blind grandmother tracing, through touch, the effigy of the heroes of Communism. Through different approaches to moving image, varying from traditional documentary to a more evocative type of storytelling, the figure of Mekas emerges both openly and overtly, as in Denisas Kolomyckis's 10:01 Dance Story, which stands as a true homage to the Lithuanian director, or in Kipras Dubauskas's Daynighting, inspired by Mekas's book on avant-garde cinema. Seemingly, Mekas' figure emerges as a background presence, such as in the attempts to focus on the fog in Fog by Ulijona Odišarija or in research on the video archive of experimental musician and sound designer Saulius Čemolonskas, the subject of Simona Žemaitytė's video Feedback.
The event is realised in partnership with the Lithuanian Culture Institute and the Embassy of the Republic of Lithuania in Rome in occasion of Jonas Mekas 100! (https://jonasmekas100.com/), an international program of events celebrating the centenary of Mekas' birth.